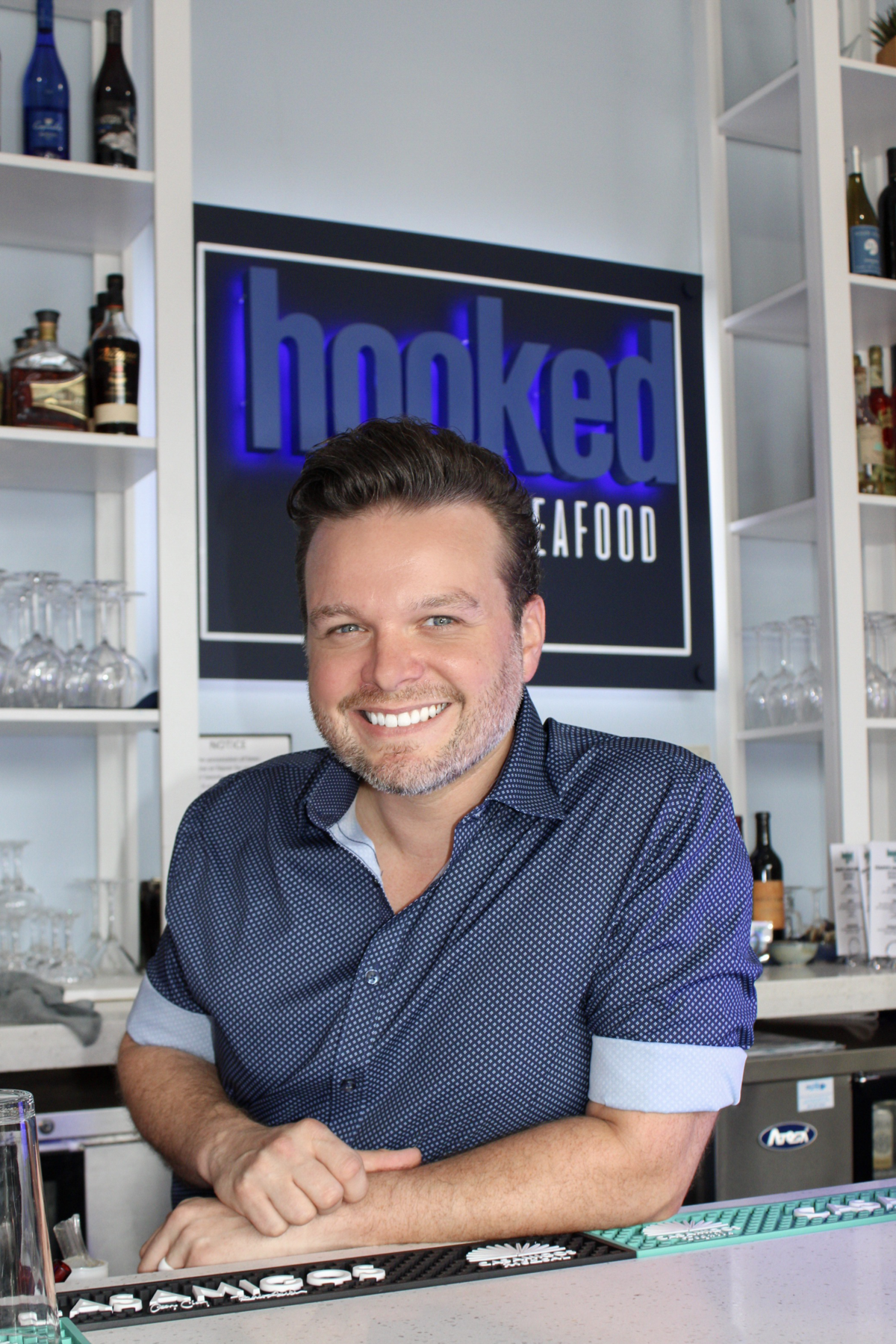 General Manager Michael Brown was born and raised in Charleston. With a Bachelor's Degree in Broadcast Journalism from the University of South Carolina, Michael had a 12-year career in radio before returning to the Hospitality spotlight. He began his F&B career as a teenager moving up the ladder-- hosting, bussing, waiting tables, bartending and key holder/floor leader. When he returned to the industry in his 30s, Michael landed a management job at Tupelo Honey Cafe in Greenville, SC. He, his wife and his three kids decided to move back home after their time in the Upstate to be closer to family, and the coast. It was then he became the General Manager at an opening restaurant, 1KEPT, which is attached to the Renaissance Hotel in Downtown Charleston. After two years at the helm, Michael was led to take the AGM position at Hooked once he heard the concept and vision of the company. He is passionate about Hooked and making it the best spot for locals and tourists alike.
Michael's favorite food is pretty much anything Mexican. Throw some cheese and sauce on it and you got 'em! Michael's favorite Hooked Menu item is the Crispy Brussels and the Fried Shrimp Platter.
When not busy giving Hooked guests a great experience, Michael loves hanging out with his family, being involved in his church, reading and exercising.
Executive Chef Thad Stuckey is excited to bring his unique blend of culinary talents to Hooked in Downtown Charleston. From Spanish Tapas to Sushi, Chef Stuckey has spent 18 years cultivating his skills here in Charleston. His love of culinary culture stems from a youth growing up all over the world, traveling and living in Asia, Europe, and North America. He looks forward to welcoming diners interested in celebrating the bounty of Charleston in a contemporary setting with modern approaches.
Front of the House Manager Alexis Carlisle grew up in New Hampshire and moved to Charleston in 2014 to be close to family and, of course, to get away from those brutally cold winters. Since she uprooted her life five years ago, she has fallen in love with Southern hospitality and the culinary delights that come along with it. Alexis went to school at Syracuse University in New York with a degree in English, but she couldn't get away from her first love, the Hospitality Industry.
During her five years in Charleston she has remained loyal and faithful to Wade Boals and Brett Yearout, who she worked under as a server, bartender and manager at the former Noisy Oyster. She created such a bond with the two owners, they asked her to stick around to help open Hooked Seafood. She has a passion for helping staff grow and developing them to their full potential and she's using that today as one of the vital management team members.
Outside of work, Alexis loves spending time with her husband, David and her daughter, Corinne. She loves to cook, using most of her creative talent when she mixes up a pot of soup
Alexis' favorite food is oysters and her favorite Hooked dish is the Pan-seared Scallops.
Charleston native, Laura Cargill was first introduced into the food and beverage industry at the age of fifteen, at her first job with The Ye Ole Fashioned Ice Cream Shop. Laura then began her management career as she assisted in opening multiple movie theaters and working as a dental assistant. After she branched out for a little bit, she then began building her resume in f&b, as she gained eight years experience bartending and then truly found her passion while working for Duvall Catering & Events. In her tenure at Duval, Laura was part of the set-up crew, managed contracts with the Gaillard, the Macon Café, and was then promoted to Executive Assistant for the Human Resource Director. The opportunities remained endless, ranging from managing a commissary kitchen with many food truck tenants, to overseeing the Midtown Theater's catering needs, detailing timelines for Jamie Lynn Spears, and growing her love for seeing others "light up" and watching clients thoughts come to life.
Laura is thrilled to learn and grow under the leadership at Team Hooked. As one of the assistant managers on the team, she brings her experience and professionalism to help make Hooked the best it can be for many more years to come!
Laura's favorite food is her Grammy's famous mac-n-cheese. When her grandmother is out of reach, a large cheese pizza will suffice! Laura's favorite Hooked menu items are the Fried Green Tomatoes and the Fried Shrimp Platter with red rice!
When not fulfilling her passion for customer service and making others happy, she's spending time with her daughter, dreaming of her own business plan, dancing and shopping